Beat the food price rises - stop throwing out food
Online shopping has changed the way we shop. But has on-demand shopping also created an explosion in food waste?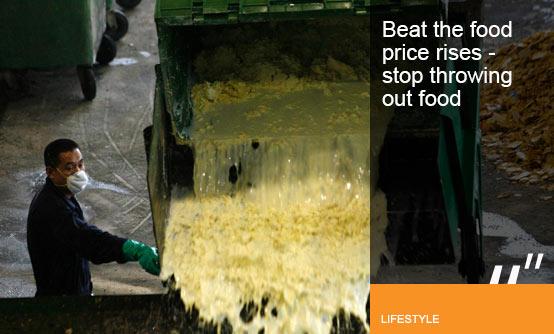 Anyone who lives within walking distance of a grocery store will know how easy it is to get lazy with regards to organising your food purchases. And with the explosion in the number of 'big four' supermarkets in the UK, more of us than ever before have the option of being able to pop out for a pint of milk or a half dozen eggs as and when we need them, rather than budgeting for a weekly shop and planning in advance.
"Traditionally, British families did a 'weekly shop'... and did our best to make sure it lasted"
On-demand shopping is, of course, one of the luxuries - some would say rights - of living in an advanced Western country and nobody is suggesting that, whatever your views on the proliferation of supermarkets, it hasn't made life a lot easier for many people. But has this change in our food shopping habits also had a knock-on effect on food waste?

WRAP, an organisation charged with reducing our waste, estimate "that we throw away more than seven million tonnes of food and drink every year from our homes - most of which could have been safely consumed."
Traditionally, British families did a 'weekly shop'. We filled our trolleys with as much food as we thought we needed to last seven days, and did our best to make sure it lasted. The incentive was there to use everything up, because the effort required to make a return trip to the supermarket, in terms of petrol for the car or strain on arms and legs from carrying bags to and from the bus stop, made the once-a-week journey the most attractive option.
"Perhaps it's about time we reconsidered the weekly shop... as a sensible and
environmentally-frie​ndly

way of reducing our food budgets"

But now, with delivery services like Ocado, and 24-hour supermarkets, the temptation is greater than ever to just shop day-to-day and not think about making the best use of the food you buy. And this will naturally lead to a greater amount of leftovers and bits and pieces in the fridge that don't fit into today or tomorrow's meal plans, that eventually will just be thrown out.


 

So, with food prices rising, perhaps it's about time we reconsidered the weekly shop not just as the best way to reduce food waste, but as a sensible and environmentally-frie​ndly way of reducing our food costs. If we took the time to plan a week's worth of evening dinners, and more efficiently tracked the contents of our fridges and cupboards, we might find that our food budget stretched further and the size of our landfills reduced. And that, I'm sure you'll agree, is to the benefit of us all. 



DO YOU THINK WE THROW AWAY TOO MUCH FOOD?
OR SHOULD FOOD BE AFFORDABLE, ALLOWING US TO THROW AWAY AS MUCH AS WE LIKE?
LET US KNOW IN THE COMMENTS BELOW
Welcome to #socialvoices. This is the home of sharp writing, opinion and social debate on MSN. Jump into the comments, tweet us with the hashtag. Join in.
Should restaurants be allowed to doctor their photos?
Thanks for being one of the first people to vote. Results will be available soon. Check for results
Total Responses: 4,129
Not scientifically valid. Results are updated every minute.