Is it possible to be a good pan-Asian restaurant?
No Chinese restaurant does a world-beating fish and chips. Fact.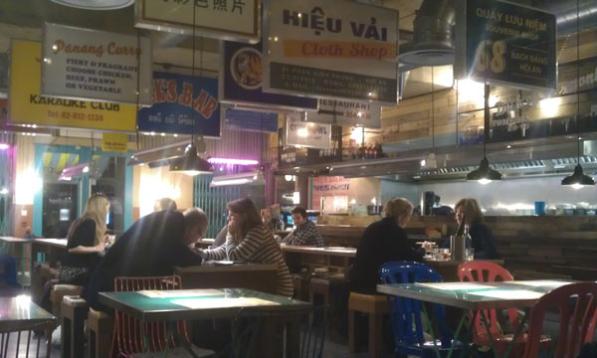 There are some things which should be left to the experts. And with National Chip Week taking place now until 26 February, the experts in chip-making are probably at your local chippy, not your local Chinese. Here's why.
I have few maxims in life, but this is one of them. No restaurant can be all things to all people. We all have too many different wants and needs to all feel equally satisfied about the experience, and any restaurant that spreads itself too thinly usually finds itself revealing cracks in either the plan or the execution or, worse, both.
So when I heard about a new 'pan-Asian' restaurant recently opened, promising Indonesian cuisine alongside Japanese, Vietnamese alongside Taiwanese, and the rest, I was naturally sceptical. "Dear God, no".
But perhaps unusually, I enjoy being proven wrong. So I went there for dinner. To be proven wrong. Here's what happened.
Any restaurant that tries to do too much is likely to bottom out as a Jack of all trades and master of none. It's a shame, but often true. By 'doing too much', I mean carrying a huge menu, which specialises in nothing in particular and excels in equally few dishes.
The part where I am proven wrong
But I was wrong.
East Street
 is actually good at what it does. The first London opening by  the owners of
Tampopo
, with six other successful restaurants around the UK, it's the upshot of the owners' extended holiday to the far east. 
Offering East Asian street food (hence 'East Street') - a concentrated offering of classic dishes from Indonesia, the Phillipines, Thailand, Vietnam, India and elsewhere - it's comparable to Wagamama or Busaba Eathai. But arguably better.
Inside the designers have - for want of a better phrase - gone nuts. There's a bazaar's worth of neon signage strung from the rafters evoking a busy Bangkok side street, corrugated iron walls for that shanty-town feel and knockabout canteen tables that any traveller to Asia is likely to be familiar with. So far, so theme park. 
Except it works. The open kitchen down the full length of one wall does create the intended buzz, and there's more than enough well-considered ephemera to actually transport diners to the far east. It's a relaxed space with communal tables and bench seating for those who like to rub elbows with their fellow diners, with additional indvidual tables for those who don't. Just take your pick.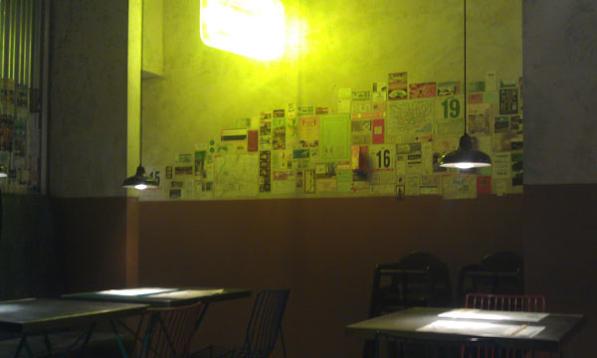 What of the food and drink then?

We started with Asian-inspired cocktails - a Saigon negroni (£5.95) substituted the standard gin, Campari and Martini cocktail with a lychee-infused gin, to a sadly middling effect, while a lemongrass mule (£6.50) was much more successful, with a welcome ginger bite and lemongrass complexity. A rice-based Beer Laos (£3.50) hit the spot though and we gave the wine list a wide berth. There are few wines which add to Asian dishes more than they take away, in my opinion.
On the East Street menu, there were some intriguing combinations. We opted for three sharing starters between two of us, some Thai corn fritters (£4.25) - not too oily, not the toe-curling rubber fritters I've been subjected to elsewhere, either. Dipping sauces were zippy and there was no sign they're holding back on the chilli heat. 
Vegetarian Vietnamese rice paper rolls (£3.85) were given a kick with fresh herbs and are a step up from most attempts I've tried in the UK. From the accompaniments selection, a Thai salad of cucumber, red onion, mint and coriander (£3.25) gave a welcome dose of fresh greenery, while for mains, a Japanese stir-fry noodle dish, yaki udon, was underwhelming and could have done with additional spicing. 
The Changmai noodles (£8.95) - a cross between a stir-fried noodle dish with curry sauce were, however, excellent. Portion size was smaller than expected but, given the choice of side dishes and accompaniments, this was probably a good thing - I still left full. I'm a sucker for fresh tropical fruits and light Asian desserts, but a Thai sticky rice dessert sat heavily and lacked the cardamom and lemongrass flavours I'd expected while the ginger creme brulee needed more of that fiery ginger to lift it.
So, are all the dishes top-notch? Not across the board, no. But there are some real gems here if you choose wisely. Prices are reasonable, the escapist decor works, the atmosphere is lively and East Street fills a very real need - that post-work pre-drinks cheap eat that tries a whole heap harder than most. Is it possible to be a good pan-Asian restaurant? Yes. And with time, maybe consistency in the pan will come too.
What do you think? Is it possible for a restaurant to excel at a variety of cuisines? Does your local Chinese restaurant do amazing fish and chips? Have you eaten at East Street yourself? Let us know in the comments below.
Are you sure you want to delete this comment?
Craig Butcher

Craig has worked in food journalism for various publications both in print and online. He is currently content editor of MSN Food in the UK.
What food could you not live without?
Thanks for being one of the first people to vote. Results will be available soon. Check for results
Carbs: bread, pasta, potatoes

69 votes

Meat: I could never go veggie

105 votes

Fruit and veggies: they make me feel good

66 votes

Anything sweet: I've got to have my fix

42 votes
Total Responses: 282
Not scientifically valid. Results are updated every minute.