Is it possible to eat too much chocolate?
To find out, I recently tried a seven-course tasting menu where everything included chocolate.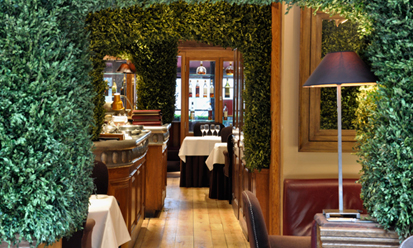 Chocolate is great stuff - whether it's the high-end, high-cocoa content that will cost you an arm and a leg, or the cheap-as-chips blocks of chocolate which most Belgians argue isn't even chocolate, it's the stuff of dreams. But is it possible to have too much of a good thing? As National Chocolate Week drew to a close, after nothing less than a chocolate-fest of epic proportions, I decided to find out if it's possible to eat too much of the stuff.
"Crikey, that's a bit full-on in a restaurant isn't it?"
My dinner guest had just pointed out a French couple giving each other a more-than-hearty smooch at the prime table at
Clos Maggiore
, a class-act restaurant in Covent Garden and frequently voted the 'most romantic' in London.

"Well, he has just proposed..." I point out. And he had. He'd not got down on one knee, he hadn't sung it from the rafters, but he had most definitely proposed. The ring fitted, it glittered in the low candlelight. Cue ripples of applause around the restaurant, tears from the bride-to-be and warm fuzzy feelings all round. He was thrilled and celebrated in age-old fashion - by getting stuck into what looked like a superb steak. 
She celebrated, oddly, by leaving her food alone. Entirely. For the rest of the evening. She didn't even pick up her knife and fork. Maybe she wanted to keep a picture of it like that forever more. Whatever the rationale, that sea bass stayed precisely - not as nature had intended perhaps - but as the chef had intended - plated to perfection.
Fortunately for Mr Proposal, he hadn't ordered what we'd ordered and squandered a seven-course tasting menu (£59) with matched wines (additional £39) which his future wife may never have touched. It may well have merited their first argument as an engaged couple.
It was National Chocolate Week and like any restaurant worth its moutarde, the French-influenced restaurant had gone to town, creating a themed menu where every dish included chocolate.
So there were cocoa nibs in the seared scallops, white chocolate in the butter sauce accompanying the oven-roasted Weymouth monkfish and a chocolate crumble in the roasted venison fillet. Dessert was - clearly - a chocolate-fest of Valhrona white chocolate and chestnut parfait while the closing coffee (mocha) had a whole chocolate truffle dropped in it. Superb. 
The wines (a dry German riesling, a cherry-fresh Cotes du Rhone, a tawny port and Barolo dessert wine, amongst others) all paired extremely well, nothing too sweet blowing things out of proportion. But what about the cheese? No chocolate in sight, just plenty of quince to add a little lively acidity to the cheese. 
Did it work? Absolutely, everything came together well - the food, the wine-matching, the service (polite and efficient yet approachable and actually fun). Was I sick of the sight of chocolate by the end? Surprisingly, no. Portions were well judged and flair in the kitchen actually showed how differently chocolate can be used.
The chocolate menu is no longer available but truffle-hunters can try the truffle-riddled menu instead between 14th and 27th November. Let us know how you get on if you try it.
But what do you think? Is chocolate over-rated? Is it too much of one ingredient a bad thing? Let us know in the comments below, or get in touch via our MSN Food Twitter account
Craig Butcher

Craig has worked in food journalism for various publications both in print and online. He is currently content editor of MSN Food in the UK.
Has the horse meat food scandal affected what food you buy?
Thanks for being one of the first people to vote. Results will be available soon. Check for results
Yes, I'm avoiding all processed meat

5,288 votes

Yes, I'm avoiding Findus and specific products mentioned

2,255 votes

No, the horse meat products have been taken off the shelves

2,978 votes

No, I avoided processed meat anyway

7,115 votes
Total Responses: 17,636
Not scientifically valid. Results are updated every minute.