Worst dinner companions revealed
Survey says bill dodgers wind you up most - but are we surprised?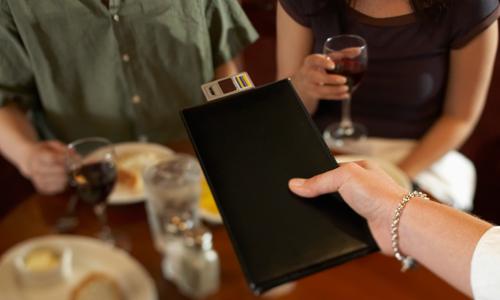 Bill dodgers who don't pay their fair share of the tab are the most irritating dinner companions for 53% of Brits, according to new research around dining habits. The poll also revealed that people who deliberately order expensive extras when they know the bill is being split evenly incur the wrath of 42% of you, while a miserly 5% never leave a tip, regardless of service. 
Hardly surprising that bill dodgers top the list
Over half of British diners take exception to their fellow diners dodging the restaurant bill. I'll go out on a limb here and suggest that we're pretty easily wound up by bill dodgers, whatever the bill. That friend who still owes you for the birthday gift you went halves on, the mate who always seems to pop to the toilets when it's his round in the pub - it's the sort of scrimping behaviour bound to raise our ire.
We've also all experienced the group meal where your fellow diners really get stuck in - ordering the fillet steak and the most expensive bottle of wine on the menu, knowing the bill is going to be evenly split and everyone else will be left to suck it up. It's pretty crass behaviour.
But what can we do about it? 
Well, heading to a cheaper restaurant is one exercise in damage limitation.
Check out our top 10 UK cheap eats here.
 Picking and choosing who you dine with is another. Let us know in the comments below your own tips and advice too.
The survey, by UK shopping website
www.vouchercodes.co.​uk
also showed 25% of those polled were irritated by frugal friends who whip out a calculator to work out their exact share of the bill. Personally, I'd take extreme accuracy on the split over a bill-dodger any time.
Service charges
Don't get us started on 'optional' service charges either. Polls suggest that this frustrates a large number of you too. But the Voucher Codes survey suggests that 24% of Brits only leave a tip if they consider the food or service to be exceptional, which means a lot of diners aren't tipping routinely. A shocking 5% of people claim to never tip at all, regardless of the quality of service they receive. Is that fair on the service staff who quite often rely on tips to earn a living wage? How will service standards improve if there's no reward for good service?
When the idea of dining out is, by and large, to enjoy quality time with friends and family, perhaps it's time we ask a little more of our fellow diners - paying their own way would seem a great place to start. 
What do you think? Do you always tip, or should the restaurant earn it? Are you guilty of scrimping when dining with friends? Do you go in all-guns-blazing when it's a group meal? Let us know in the comments below. You can also take part in our restaurant poll here

If they rely on tips for income then they are not being paid enough. I don't mind tipping if I have had good service and the food was exceptional. But I don't think it should be obligatory. I mean should I tip if the food is bad and they waiter/waitress looks like she is chewing a wasp while she is serving you.
I tip is a reward not a right. Where I work I sometimes get a tip/gift but I never expect to have it.

Gavin Greene...because there are no graduates out of work are there??. Lot's of these people take these jobs to supplement another job,work part time while they study or there are no other jobs. You would be the first to moan if they didn't do these jobs & claimed unemployment. I think you don't tip is because you are as tight as a ducks backside

I tip, but only if the service is acceptable.
I cannot abide the people that go all guns blazing because they know the bill will be split. If I witness that I get my calculator out to teach them a lesson. They never like have the lion share of the bill because they ordered the lobster when matey opposite had tap water and has to pay the same is patently unfair.
On nights out with mates we're all the same and never take advantage just because the bill will be split, and if we know someone is driving and we've ordered the entire wine list, the alcohol element is calculated separately between the drinkers.
People that don't tip are narrow minded at best - to be polite.
I always tip,based on the service and if the service is good then I say a "thank you" as well. Usually the service is good, but to not leave a tip at all could be that you're either mean or just plain forgot.
But for rubbish service then a 1p tip is meant as an insult (and yes I HAVE done it, but only the once)
I never tip anyone.  When I pay for a service that is it. Having to give an extra amount because ' they rely on tips for income' tells me they have a low IQ for getting into the profession in the first place.  
It can also be argued that 'tips' are tax free payments. Participating in the affair of tax dodging isn't something  I will do either. 
Are you sure you want to delete this comment?
Craig Butcher

Craig has worked in food journalism for various publications both in print and online. He is currently content editor of MSN Food in the UK.
Has the horse meat food scandal affected what food you buy?
Thanks for being one of the first people to vote. Results will be available soon. Check for results
Yes, I'm avoiding all processed meat

5,286 votes

Yes, I'm avoiding Findus and specific products mentioned

2,255 votes

No, the horse meat products have been taken off the shelves

2,977 votes

No, I avoided processed meat anyway

7,113 votes
Total Responses: 17,631
Not scientifically valid. Results are updated every minute.