Mark Sargeant's knife tips
If you want to get to grips with a kitchen knife, you may as well ask a professional chef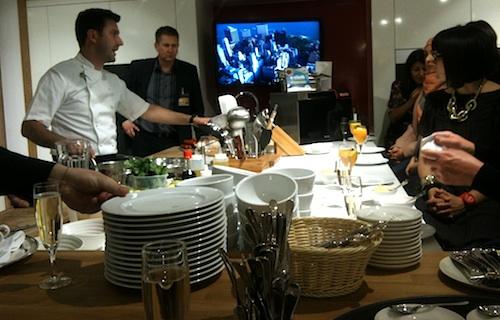 They do say that a cut from a blunt knife is worse than a cut from a sharp knife. Thankfully, I wouldn't know as so far I haven't managed to do myself any harm with the less-than-perfect knives I use in my kitchen. I have however, managed to leave a series of scars on my fingernails recently, with a brand new, sharp edition to my set of knives. An indication if nothing else, of how terrible my chopping technique is.
So, I set off to Harrods with the news that Mark Sargeant was hosting a cookery demo, and throwing in a few knife skills tips too. Mark was Gordon Ramsay's right-hand man for many years as a chef and worked at Aubergine and Restaurant Gordon Ramsay before becoming Head Chef at Gordon Ramsay at Claridge's. He now has his own restaurant, Rocksalt in Folkestone. If anyone knows how to use knives in the kitchen, it'll be him.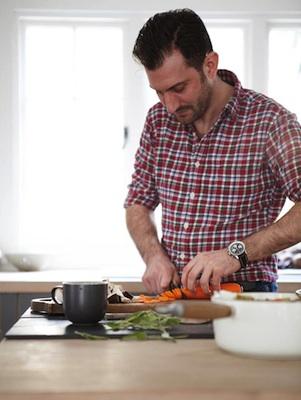 Mark Sargeant's tips
Knifes can be expensive, but you should buy a knife that will last you forever.

Use knives that are well-made, and well-balanced.

A sharp knife is a safe knife. The worst thing is when you see people try to hack through stuff with a blunt knife. That's when accidents happen.

Use the right knife for the right job. So often you see people chopping carrots with a paring knife. Get a nice big knife that gives you confidence.

Practice, and take a little bit of time. It takes you ages to learn how to write properly, but once you can write, your pen feels like second nature. Once you know how to use a knife, you don't forget and it becomes an extension of your arm really.

You are going to cut yourself at some point – there's no two ways about that. Just be careful!
Other considerations:
Sharpen your knives after each use. Domestic knife sharpeners are great for maintaining the sharpness of a knife blade, but once the blade is blunt it will need re-sharpening professionally.
Good knife brands often offer lifetime guarantees. Whilst the initial financial outlay can be expensive, with a lifetime guarantee, you're covered if your knives break so you don't have to spend any additional cash.
Mark Sargeant's recipe book My Kind of Cooking is out now, published by Quercus, RRP £20. Mark used a selection of knives from Zwilling and Miyabi during his cookery demonstration at Harrods.
Do you have a great set of kitchen knives? Or are you slicing tomatoes with a blunt knife? Are your knife skills any good, or do you frequently chop off your fingernails? Let us know your thoughts in the comments section below.
i have my kitchen knives in a tool type roll a knife to each pocket
i have collected my wide range of knives over many years.
the oldest is a bone handled carving knife [embossed with JAMES WALKER and it keeps a great edge.
i also have m.o.d kitchen knives [exelent quality]
all kept edged with a diamond chip steel [pricey but worthwhile]
by the way the golden rule [only i use my knives]
Are you sure you want to delete this comment?