Chocolate-covered bacon anyone?
I'm celebrating Bacon Connoisseurs' Week with er, chocolate.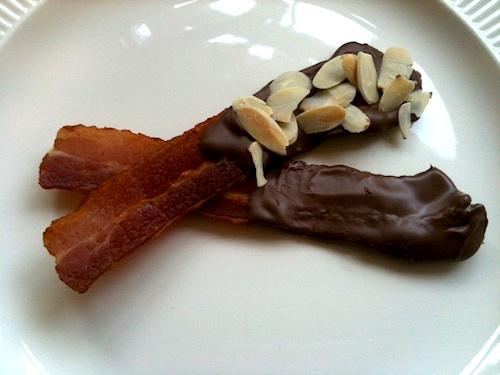 Seeing Nigella Lawson's bacon brownies hitting the headlines this week, reminded me of something I tried a while ago: chocolate-covered bacon. Yep, chocolate plus bacon. It sounded a little odd, and had sparked a similar craze with food fans, as the initially odd-sounding salted caramel concept. You might raise an eyebrow at the growing popularity of the salty-sweet phenomenon, but don't knock it till you've tried it people.
There's something about salty sweetness that our taste buds love. Our brains don't quite know what to do with it, with their sobering application of logic, but when it's well executed, salty sweet combinations can make your mouth as happy as Larry. For it to work however, the balance of salty and sweet has to be expertly nailed. Too much salt, and the sugar gets lost in the picture. Too little salt, and the result ends up tasting sickly sweet with some misplaced salt for bad measure.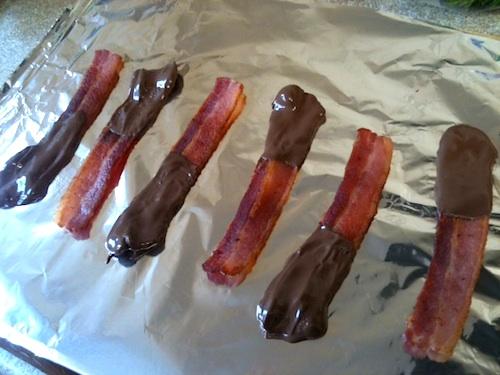 Take my first attempt at chocolate-covered bacon. I used streaky smoked bacon (suitably salty with a mellow fattiness to it), slathered in dark chocolate. Much as I dislike dismissive dark chocolate haters, dark chocolate alone has no place in the kitchen when it comes to chocolate-covered bacon. It's sweetness that your streaky is calling out for, so instead of slapping on some brown sauce or tomato ketchup, give some milk chocolate a go. Really?! Yes, really. Your brain will question your judgement, but the proof is always in the pudding, and this little number makes my taste buds do somersaults. And then some star jumps.

If anything, what I love about chocolate-covered bacon more than its taste, is that it grabs the straightlaced side of my brain, and shakes it into admitting that this logically unsound combination actually works incredibly well. Sprinkle some toasted nuts onto the chocolate-covered bacon before it sets, and there you have it: a taste sensation. So as this week is all about the bacon, why not push the ketchup aside and reach for the chocolate? Any takers?!
Have you ever used bacon as an ingredient in desserts? Do recipes like bacon brownies and chocolate-covered bacon make you feel sick? Or do you like the idea of something a little unusual? Is slathering bacon in chocolate basically sacrilege? Let us know your thoughts in the comments section below.
Are you sure you want to delete this comment?