How to get around a supermarket quickly
With some clever tactics under your belt, you can get your food shop done super-quickly.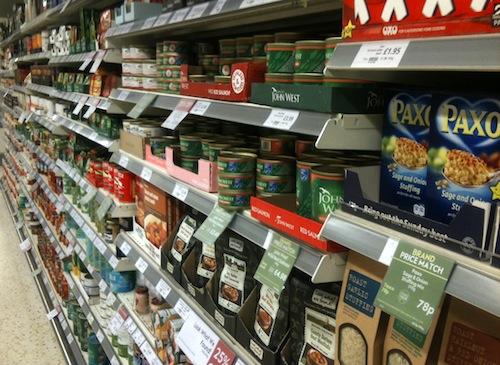 I'm an impatient kind of person, which intensifies when I'm in a busy supermarket. If a supermarket is quiet I'll happily take my time, staring at gooey cheeses, and drooling over the deli counter. But, if it's mayhem in there, I basically want to get out as quickly as possible before I experience supermarket rage. Too many cooks and all that. So, here are my tips for express food shopping:
Don't even go there - just shop for everything online at home. Someone even lugs it all to your door for you. Job done.
If you do set foot in a supermarket, embrace the shortcuts that they lay on for you. Self-checkout and scan-as-you-go zappers are excellent ways of cutting down your shopping time. The added advantage of using the zapper gizmo, is that you can point it at someone and pretend to taser them when they get in your way. (They will look at you funny, but you will be laughing inside like a five-year-old). Who's winning? YOU, definitely.



Get some stealth tactics and move lightening fast, like a panther. When you spot a gap in the throng of shoppers, make your move and sprint towards the milk section.



Have a list. Don't be waylaid by an attack of indecisiveness. With a list you have a plan of action. Lists equal less time wandering aimlessly around a strobe-lit supermarket, and more time eating back in the comfort of your own home.



Put a treat on your list for yours truly, and yours truly alone. You've done the food shop, and you deserve a badge. A badge of food. It might be a slab of chocolate, or a some cheeky scotch eggs, but make whatever it is, it should be reserved solely for you. Eating it in the car/on the bus/train/walk home is best, so you don't have to share. If you have kids in tow, they will need a treat too (primarily, so you don't have to give them any of yours).
Are you a whizz at getting around the supermarket quickly, and if so, what tactics do you employ? Do you shop for everything online, or are you happy to take your time with the supermarket shop, even when the supermarket aisles are packed? Let us know your thoughts in the comments section below.

Ways supermarkets try to slow you down include moving everything around so you have to search the whole shop for what you were able to go straight to before and stopping selling the version of a product you need (this can be an issue when you have allergies, food intolerances, sensitive skins, Autistic children who don't want the exact taste of their food to change because you had to buy a different brand, etc)


Get the great fat gits with an army of screaming brats out of the store and to the nearest play ground the supermarket is for shopping not a bloody school  playground
and how many times have you heard a brat having a temper tantrum because it cant have what it wants screaming worse than a jet at full power taking off and the adult with it does not have a roll of tape to seal its screaming gob
GOD help all who venture into one of these hell holes
Are you sure you want to delete this comment?